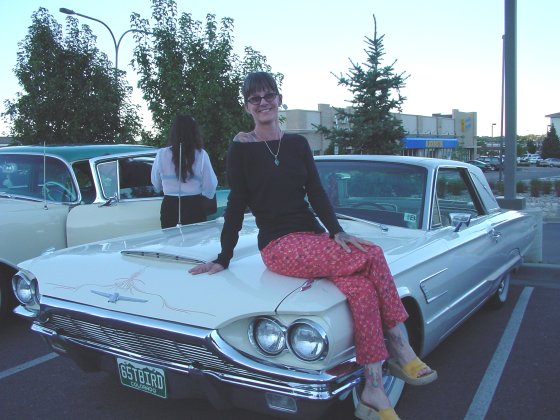 Donna is a real Sweetheart. This picture was taken on her birthday, 2001.
Donna is also a very talented artist and has promised to help us ladies with a killer logo! Won't it be great when we can get our OWN shirts and jackets??! 8*D

Kar Name: ConCheetah
Make & Model: 1965 Thunderbird Laundau
Color: White with Cheetah Flames
Running Gear: 390 Motor, Standard Transmission
Other: Frame and Suspension is all stock.
Body:

Check out the new deck art on Donna's car.

For Information Contact:
The Webmaster: GnarlyWolfman@hotmail.com
Charter Members: Cyndie, Cyndie_Paul@hotmail.com
Malana, flyneye@hotmail.com
Rich Cordova
1 (719) 271-7533
GonKat@hotmail.com
Gnarly Wolfman