Howdy!
Glad you dropped in. We are the Damsels, the Female half of The Lonely Knights of Colorado Springs.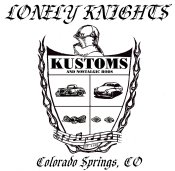 After years of being a "Boys Only" club, the guys finally gave in and inducted the Damsels on July 11, 2000.
We're just getting started, but so far it's been alot of fun! Come on in and have a look around. Check out the gals and their cool rides or hang out and listen to a few of our favorite tunes.
If you have a Kool Ride, Like to listen to Oldies on the Radio and Cruize in Old Cars...You could be a Damsel!

For Information Contact:
The Webmaster: GnarlyWolfman@hotmail.com
Charter Members: Cyndie, Cyndie_Paul@hotmail.com
Malana, flyneye@hotmail.com
Rich Cordova
1 (719) 271-7533
GonKat@hotmail.com
Gnarly Wolfman